While gambling and online gambling is legal in most of the US, whenever you connect to the internet to transfer data or information, it's a good idea to protect your privacy and secure your personal information. There are, however, some states in the US where online gambling is not legal yet.
You can use a VPN to gamble online in the US to protect your personal information and anonymize your server location. Using a VPN is one of the safest ways to secure your online traffic from being tracked and hacked and to unblock geo-restricted gambling sites. 
Using a VPN is perfectly legal, if you're not doing anything illegal that is. People use VPNs to protect their personal information and mask their IP addresses from inquisitive eyes. Another reason to use a VPN is to gain access to content that isn't accessible in your location. One such type of content people want access to, is online gambling. Read on to find out the risks of using a VPN for online gambling.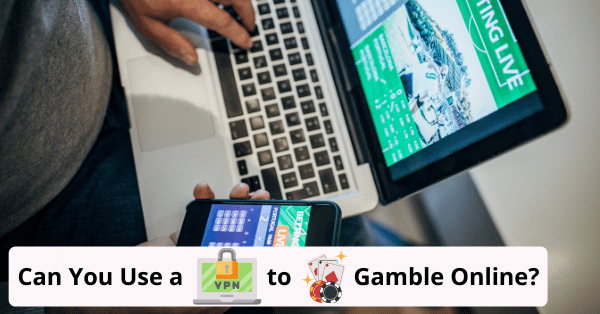 Can You Use a VPN to Gamble Online in the US?
Some states in the US don't allow online gambling and any form of online gambling is illegal in those states. There are currently 13 states in the US that allow some form of online gambling or online sports betting. If you're not living in one of those 13 states, you might be considering a VPN to access online gambling platforms and apps that are not available in your state. 
States where online gambling is not legal, have put up geo-restrictions, blocks, and firewalls to prevent gamblers from accessing platforms that are legal in other states but not their own.
A VPN encrypts and re-routes your IP address and internet traffic to mask the identity and location of your server so that you can gain access to content outside of your local state or area.
While most people use a VPN server to secure their personal information and keep their private life private, others are using VPNs to gain access to servers they wouldn't usually have access to including torrenting, streaming, and gambling. 
Should You Use a VPN to Gamble Online?
If you live in a state where online gambling is not available yet, you should not use a VPN to access online gambling platforms. However, if you live in a state where online gambling is already available and want to use a VPN to protect your privacy, you should check the platform's stance on VPN use before trying.
If you're still tempted to give a VPN a try with online gambling where it isn't available in your state, you should know, there are risks involved. 
Although your IP address and the encrypted server are anonymous to others, your VPN provider can still track your online traffic and server location and unfortunately, some providers aren't as safe and secure as they sell themselves to be. Some VPN services, especially free services, have even been known to sell user information to third parties. 
Here are some other common risks you face if using a VPN to gamble online:
Some online gambling platforms have more than just blocks and firewalls for outside locations but can also detect the use of VPNs. If you try to access content for one of these online gambling sites you risk being banned.
It's not always a straightforward process to get your winnings and many VPN users have experienced not getting their money back. Online gambling sites require specific personal information including ID to ensure legitimacy when paying anything out to their users.
If you can't prove who you are and that your location is in a legalized state for online gambling, the service provider can terminate or freeze your account and keep your winnings.
Not all online gambling platforms allow VPNs as part of their terms and service agreements. They simply won't let you sign up or if you happen to get around that, eventually you will find your account no longer accessible.
VPNs may be classified as "cheating" software as are some Proxy servers too.
Where is Online Gambling Legal in the US?
Before 2018 there was a federal law in place that made online gambling and sports betting illegal throughout the whole of the US. Since then, the federal law has been replaced with the option for state-wide decisions to make their own laws in the online gambling world.
While not all states in the US allow online gambling, here are the ones that do:
New Jersey
New Jersey is the largest market for online gambling in the States with numerous sports betting apps and online platforms that have a net worth of over US$225 million a year.
Michigan
Michigan was the fourth state in the US to legalize sports betting, online casinos, and online poker. The legislation was signed off in 2019 and legalized sports and online gambling commenced in 2021.
Pennsylvania
Online poker was legalized in November 2021.
Colorado
Colorado legalized online gambling in 2020
Indiana
Sports betting apps were launched in 2019.
West Virginia
Mobile and online sports betting is legal in West Virginia
Virginia
Online sports betting has been legal since early 2021.
Illinois
Online sports betting was legalized in Illinois in 2020 and due to Covid restrictions, online registration is currently allowed to replace in-person registration at casinos only.
Iowa
Physical casinos have allowed online sports betting for years but only if gamblers physically attended the casino. Online gambling is now legal since January 2020.
Tennessee
Tennessee only allows online sports betting and no other forms of online gambling.
Connecticut
In May 2021 all three forms of online gambling, sports betting, online casinos, and retail sports betting, became legal. Both online and mobile gambling is legal in Connecticut since October 2021.
Maryland
Although not in effect yet, Maryland will allow for online sports betting.
Arizona
Online sports betting was legalized in 2021 and include online retail and online sports gambling.
How to Avoid Restrictions When Gambling Online
Using a VPN or a Proxy Server can assist a user in a state where gambling online isn't available to avoid restrictions and detection when attempting to gamble online in legal states. 
However, the real question is should you risk avoiding restrictions when gambling online?
We would recommend not risking it because even with a VPN many online gambling and sports betting operators have additional security in place to detect proxies and VPNs to block accounts that should otherwise be restricted. 
Online sportsbooks also have a legal obligation to restrict their online gambling platforms to state-only residents and are bound by US law to not allow players from outside of state access to their online sports bets and casinos.
Licenses can be revoked if found guilty of allowing unauthorized users access to their gambling platforms through any means, including a VPN.
Conclusion
Each state in the US has its own views on online gambling and has strong gambling laws put in place that should not be overridden or avoided by residents wishing to gamble online.
Attempting to use a VPN might work, but it also might not, and the risk could be far greater than any benefit. You can attempt to use a VPN to gamble online in the US but it most likely won't work.
It is important to note that if you do attempt to use a VPN to access online gambling sites not legally accessible in your location, you are probably breaking the law.