Downloading VPN onto your phone and other devices that you connect to the internet with is a good idea for keeping your web browsing traffic and your personal information secure. It's also a good idea to install a VPN on your phone and PC when using public Wi-Fi in public spaces but does a VPN affect your phone battery life?
Using a VPN service on your mobile phone will affect its battery life. Using a VPN as a background app on your phone to add protection and security to your confidential information is the same as installing and using any other app. They use your phone's battery while in use.
Unfortunately, the battery life in our mobile phones doesn't last forever. It might be a good thing because we should all be cautious about how much time we use our phones every day, but it can also be frustrating when you need your phone, and the battery life drains quickly. Keep reading below to find out just how much using a VPN on your phone can drain its batteries.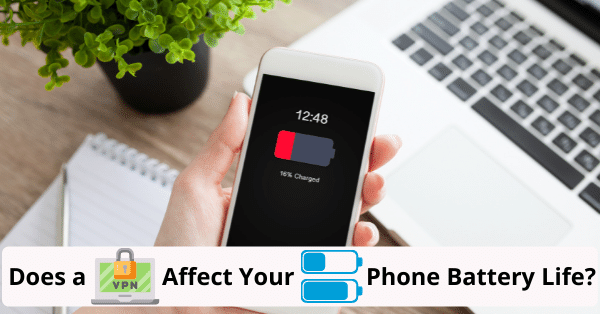 Why does a VPN Affect Your Phone Battery?
Installing a VPN on your phone, while a great idea, can suck the battery life of your phone quicker than other apps because it's constantly working in the background to secure your information while you're using your phone.
Having a VPN installed on your phone is the same as downloading any other app on your phone so when it's in use, just like any other app, it will drain your battery quicker.
When in use, VPNs are constantly working in the background to keep your information and browsing traffic secure from outside threats and malware so it only makes sense that a VPN will consume more battery life on your phone than it would without a VPN.
How Much Battery Life Does a VPN Use on a Phone?
Studies show that installing and using a VPN on your smartphone can consume between 5% and 15% more battery life than usual.
Depending on the type of phone you have and how many background apps you have at work, a phone can last up to three days (when in standby mode and not in use but switched on).  
Battery life expectancy for a phone will change when you have it in use and will drain quickly if you're using apps that take and need a lot of data to run effectively. This includes VPN.
The 3 Reasons Why Does VPN Drain a Phone's Battery?
Virtual private networks are an optimal service for those who want to keep their online activity hidden and secure but there are some "too good to be true" features that exist too. One such feature is the fast draining of a phone's battery life expectancy.
Among apps like social media and dating apps, VPNs are one of the downloads linked to sucking the most life out of your phone.
The question remains, why does VPN drain your phone's battery life so quickly?
1. Background use
If you have a VPN on your phone and leave it on 24/7, the app is constantly working in the background to protect and secure your information.
This means that every time you go online, make a payment, search information, stream, etc., the VPN is working alongside the app or internet platform in use to keep your private information anonymous to those that might want to track and hack your information for their own purposes.
If you don't want your VPN to be on all the time to save some battery life you can configure this in the VPN settings so that VPN is only activated at certain times.
2. Signal strength
A low or poor internet connection means your server is working double time to try and find a stronger connection. VPNs work to keep connections active through numerous other server locations, and having your VPN switched on in an area with a poor signal will result in your battery life being expended much faster. 
3. Encryption processing
VPNs encrypt your data so that it remains anonymous, hard to track, and secure from prying eyes. To encrypt data on your phone a lot of processing power is needed, and this makes your battery life susceptible to quicker drainage when the servers are working hard to keep your private information private.
The 5 Ways to reduce How Much Battery Life a VPN Consumes
Thankfully there are ways to keep using a VPN for your confidentiality and without taking up too much of your phone's battery life. Although it may also be a good idea to get a portable charger if you plan on using a VPN on your work commute or in public spaces where you don't have access to your home charging devices.
Here's a few tips to help keep your phone alive a little longer:
1. Configure VPN to only be used at certain times
If you're not needing to access geo-restricted content or streaming services all the time, you might not necessarily need a VPN. VPNs are ideal security software when using your phone on a public Wi-Fi connection but if you're at home and just playing a game on your phone you can probably switch the VPN off and this will save up to 15% of your battery life.
2. Battery saver mode
Some trusted and popular VPN providers have a "battery-saving" power mode installed in their settings. Check the terms and conditions and privacy policies before installing your chosen VPN and see if they have power-saving and what the power-saving mode means for the security of your web browsing traffic and confidential information.
3. Choose a VPN with low battery consumption
Along with low-power mode settings, some VPNs providers work hard at creating a secure and usable VPN service for their paying customers to receive the best service. Popular and paid VPN providers are coming up with new ways to reduce battery consumption in their apps and some of them will consume less battery life than others. Do your research and choose one that suits you.
4. Switch VPN providers
If you're noticing a drastic change in the battery performance of your phone, it might be time to switch up your VPN provider. As mentioned above, some VPN services have better battery life reviews than others and depending on how much you use your phone and the apps you're using will depend on how quickly a VPN drains your battery.
5. Use your router
This advice only applies to those using a VPN at home. You can install the VPN in your router rather than on your phone so that all devices connected to the modem are secured to your VPN network. This will reduce the amount of battery life consumed on your phone because the VPN app isn't directly working in the background all the time.
Which VPN Providers are Good for Containing Phone Battery Life?
Here are some of the best VPN services that are available as a phone app, are trusted providers, and are known for better battery lifetimes:
PrivateVPN
Surfshark
ExpressVPN – ExpressVPN is one of the best-rated VPN services for PC, PlayStation, and phone devices
NordVPN
Conclusion
Installing a VPN is something everyone should consider when it comes to using the internet and protecting their online traffic and personal information. VPNs do come with some hitches and it's always best to do your researching before choosing just any VPN service.
VPNs will drain your phone's battery life, but they won't drain them any more than what many other apps like games and social media apps will do. Choose a VPN that suits you, look for one with low-battery power options, and consider only using the VPN when you need it.