This generation obviously proves that technology is continuously emerging especially in terms of communication process. It upgrades almost everyday, that's why  you really need to be fast if you want to get along in this constant changes. You will also need to explore new things if you would want to adopt with it. Just like the famous saying "out with the old and in with the new" which simply means that it's about time to get rid of old stuff and replace it with a new one.
Perhaps it will be very classic to see a Phone booth in today's era where cellular telephone is very highly in demand however, we could still considered it as universal. But in New York this phone booth will be replace into a free Wi-Fi hotspot.
This so called project LinkNYC was previously announced last November 2014. Its goal is to convert more than 7,000 payphones into hotspots which are linked into a wireless network covering all five divisions of New York City.
They'll be planning to install over 7,500 units that will be freely accessible not only for the New Yorkers but for the visitors as well. The first beta link hub was spotted outside Starbucks near Manhattan's Union Square. It was also stated in the Link NYC's FAQ that each hub will offer free services like high-speed Wi-Fi, phone calls, touch screen web browsing and device charging.
On the contrary, this hotspot will be very risky for your online identity. It will be very helpful to use this hotspots with a reliable VPN that could secure an anonymous web surfing.
A secure VPN should also help in encrypting all your network data and could enable you to surf anonymously. So you better look for the Best VPN Service provider like FrootVPN which can give you the best anonymous surfing experience.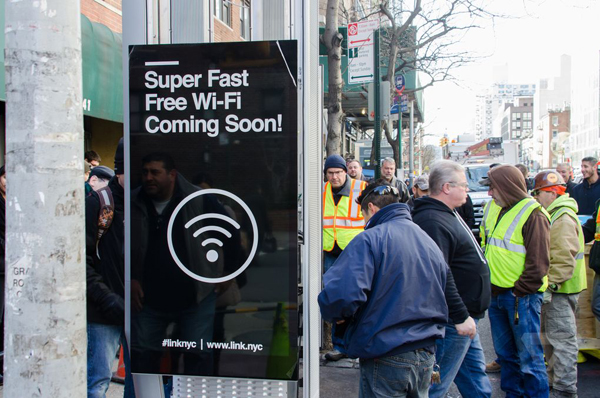 Photo: THE VERGE
This  WI-Fi maybe fast  and could give free internet access but every user must learn how to be a responsible steward of this privilege. It is there to make your lives easy not to lead your life to danger so you better think of ways how to surf anonymously.
Yes, it is very exciting to discover something new because you allow new learnings to come especially in this kind of world where change is very constant. You must never hesitate innovation to come your way because of the fact that it could give a better sense of development. It may also result to a progressive growth. As what they have done in New York , they've upgraded their Phone Booths into  a free Wi-Fi hostspots not because they don't need the Phone booth anymore. It was done simply because they felt the need to change for the better.
Well, it's never wrong to compromise something if it could have been better isn't it? Why would you hinder change that could result to a brighter future? You don't have to fear change, you just need to deal with it responsibly. Of course, it will be more enjoyable if you could surf anonymously online so don't forget to have the best VPN with you and most of all, never hold back if you feel that it's time to change.
Source: nakedsecurity.sophos.com